All too many married couples strive to find their "happily ever after" and instead are left struggling just to survive marriage because they are unaware of how their incomplete and inaccurate perspectives form faulty perceptions that they hold to more tightly than truth and reality. The purpose of The Elephant in the Marriage  is to open couples' eyes to this destructive cycle, equip them with strategies to establish healthier relationship patterns, and teach them how to leverage accurate perceptions to enjoy a thriving marriage relationship.
Advance Praise for
The Elephant in the Marriage
The gap between expectation and reality is where many couples experience disagreement and discouragement. With the help of Dr. Karampatsos, and the example of other couples, you will learn to bridge that gap and experience a healthy, whole marriage. If you are looking for hope and help, read this book!
-Rod Loy
Author of Three Questions, Immediate Obedience, and After the Honeymoon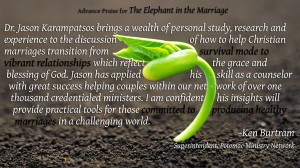 Dr. Jason Karampatsos brings a wealth of personal study, research and experience to the discussion of how to help Christian marriages transition from survival mode to vibrant relationships which reflect the grace and blessing of God. Jason has applied his skill as a counselor with great success helping couples within our network of over one thousand credentialed ministers. I am confident his insights will provide practical tools for those committed to producing healthy marriages in a challenging world.
-Ken Burtram
Superintendent, Potomac Ministry Network
From the moment I read the introduction of Dr. Karampatsos' book, I knew there was here a great resource for anyone concerned about healthy marriages. His practical insights are applicable for couples who are in their first or fiftieth year of marriage. I also loved the quotes and practical applications he has interwoven throughout the book. Whether it is for personal use or for a valued leadership tool, I highly commend this book to you.
-Don Meyer, Ph.D.
President, University of Valley Forge
Rarely does a book come along that makes a real and lasting impact in the lives of its readers. This is just what Dr. Jason accomplishes in his book, The Elephant in the Marriage. Many popular marriage and relationship-building books offer some good tips and inspiration, but in time, it seems that the advice becomes 'old techniques'. The Elephant in the Marriage however deals with lasting principles of marital relationships, and when applied, undoubtedly the reader will encounter real tools to experience profound and permanent change.
-Bill McDonald
Missionary, Author, Founder of Unsión Television Network
This book is a must read for anyone longing for improvement in their marriage relationship—and that ought to be all of us. Backed by years of counseling expertise, Dr. Jason Karampatsos is a trustworthy source for helping to make your marriage and mine all that God longs for it to be. He helps those of us who are married to discover how perspectives and perceptions form expectations, how dangerous inappropriate expectations can be, and what to do to foster change. Although this book offers great information, the hope held out for all readers is transformation.
-Marilyn N. Anderes
Author of More: The Four Dimensions of Intimacy with God
Marriage is the most important relationship we commit to here on earth.  There are many resources to pick from when it comes to focusing on a great marriage.  But in the plethora of marriage resources, Jason's perspective and expertise is one of the best.  If you want a healthy marriage, you need to read this book.  If you are struggling in your marriage, you need to read this book.  If you are going to get married, you need to read this book.  If you want your happily ever after, you need to read this book.
-Trinity Jordan
Author of Sabotage: How Insecurity Destroys Everything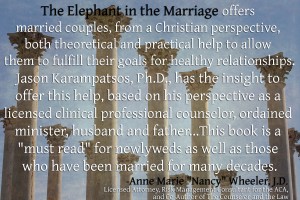 The Elephant in the Marriage offers married couples, from a Christian perspective, both theoretical and practical help to allow them to fulfill their goals for healthy relationships. Jason Karampatsos, Ph.D., has the insight to offer this help, based on his perspective as a licensed clinical professional counselor, ordained minister, husband and father. He draws on the wisdom of great thinkers ranging from Plato to Carl Rogers.  Then he offers very practical suggestions to his readers so they may develop communication skills that help them understand how their "perspectives inform" their perceptions, and how their "perceptions are greater than reality." This book is a "must read" for newlyweds as well as those who have been married for many decades.
-Anne Marie "Nancy" Wheeler, J.D.
Licensed Attorney, Risk Management Consultant for the ACA,
and Co-Author of The Counselor and the Law
The Elephant in the Marriage is a treatise that carefully considers the theological, scientific, cultural, gender–unique, and psychological perspectives on marriage. Dr. Karampatsos provides a much-needed challenge to all of us to think beyond our own experience of the marriage dynamic and place a greater emphasis upon the experience of our spouse. One of my two biggest takeaways was to realize that my "gut feeling" is strongly influenced by subjective perceptions and perspectives within myself and therefore needs to be challenged. The other was that compromise is not at the core of a healthy marriage. Rather, marriages grow when each person practices the discipline of thinking in terms of what is best for the marriage, whether or not it is best for the individual.
-Erik Sundquist, LCSW-C
National Director, Safe Harbor Christian Counseling